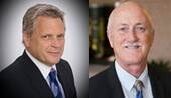 Listen to Money Sense weekdays from 7am to 9am.
Jim LaCamp
Jim began his career in 1985 and formed a partnership with Pat in 1987. Jim is a frequent guest on network television appearing on CNBC, Fox News, Fox Business and MSNBC. Jim is a graduate of Baylor University with a double degree in Economics and Finance. Jim is actively involved in the community and serves on the Board of Directors of The Presbyterian Night Shelter and The Fort Worth Club. Jim has two daughters.
Pat Reddell
Pat began his investment career in 1983 and four years later formed a partnership with Jim. Pat graduated from The University of Arkansas with an MBA in Finance. He is active in the community and serves on the board of The American Heart Association.